BIA 101 Anniversary Sport Edition - The gold standard for Sports Nutrition, Rehabilitation and Sports Medicine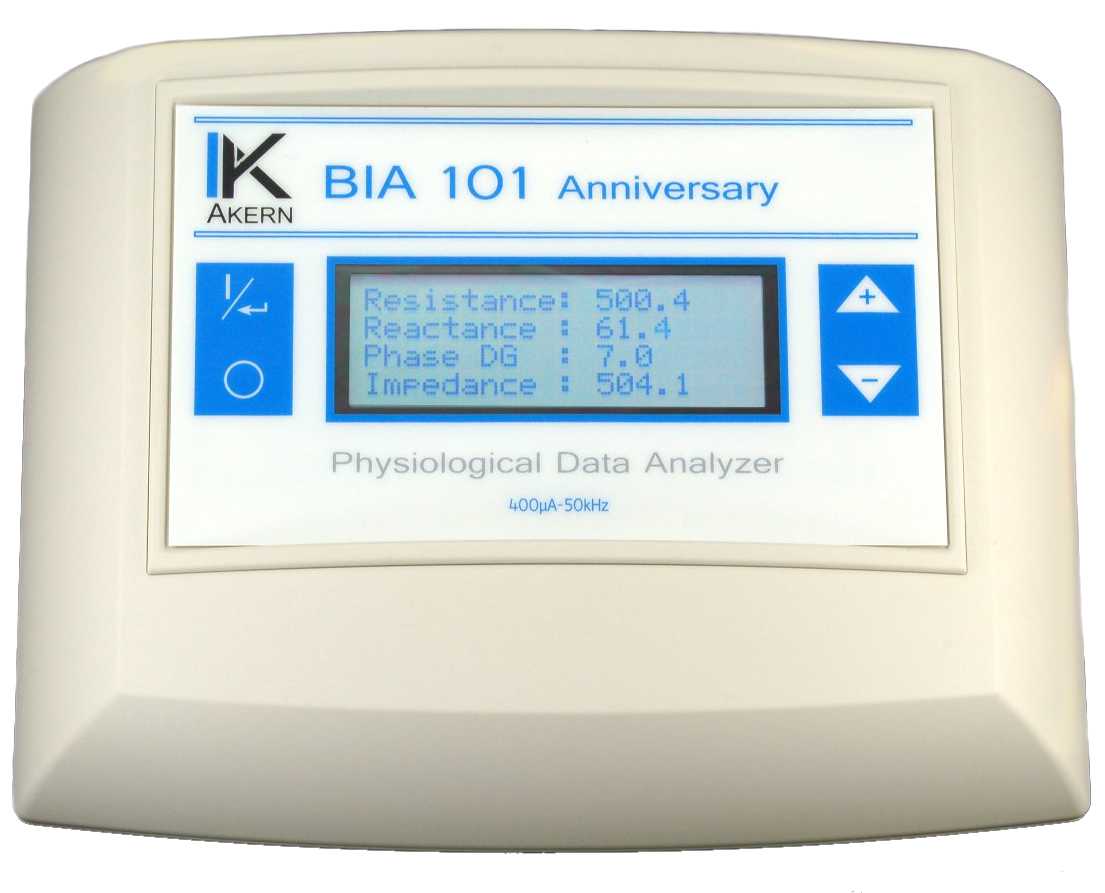 BIA 101 Anniversary Sport Edition
The gold standard for Sports Nutrition, Rehabilitation and Sports Medicine
To discover how, where and when the human body changes.
BIA 101 Anniversary Sport Edition is the Analyzer specifically designed for hydroelectrolytic and nutritional assessment and analytical monitoring of muscle mass.
Extremely versatile and precise, BIA 101 Anniversary Sport Edition features two measuring modules:
"Total body" measurement: as in the BIA 101 New Edition model, it provides a complete body composition analysis, with more than 50 qualitative and quantitative indexes developed and validated for assessment of nutritional and hydroelectrolytic status.
Segmental or Bodyscan measurement: capable of identifying where changes in muscles take place. The Bodyscan technology can map the muscle mass distribution of nine parts of the body:
Right upper limb

Left upper limb

Right lower limb

Left lower limb

Right half of body

Left half of body

Top half of body

Bottom half of body

Torso
BIA 101 Anniversary Sport Edition is the ideal sensor for
Nutrition Centres - Auxology Centres - Sports Nutrition, Eating Disorder Clinics

Endocrinology, Diabetes care

Sports Medicine,

Use for Research purposes (Protocols of pharmaceutical trials and studies)

Orthopaedics, Rehabilitation,

Pulmonology - Respiratory physiopathology

Fitness training

Competitive sports training
BIA 101 Anniversary Sport Edition is indicated for:
Evaluation of variations in body composition during weight loss and special dietary regimes

Evaluation and control of nutritional and hydration status in sportsmen and women

Prevention and evaluation of muscular decline and hydroelectrolytic changes in the elderly

Evaluation and follow-up of fitness and muscle-building programmes

Evaluation and follow-up of corporeal and weight-for-height development in children

Study of the structural and pathophysiological changes in soft tissues and fluids in small areas of the body

Monitoring of the development of specific parts of the body after nutritional/sports training programmes

Problems relating to localised muscle depletion

Assessment and control of body morphology for fine-tuning of training/recovery programmes

Research: assessment of localised fluid retention in the treatment of lymphedema, electric assessment of individual muscle areas (localised BIA)