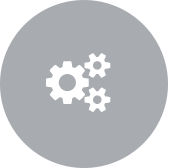 AKERN HISTORY
Akern is a privately held company that was founded in Florence in the early 1980's for the research, development and production of electromedical diagnostic equipment and non-invasive therapy devices.
The first Computerized Impedance Plethysmography CIP 8/32 (hereinafter CIP PLUS) was produced in 1981 for the diagnosis of venous circulation in the limbs, which was also validated by one of the first bioelectrical impedance multi-centers in Europe.
The development of "phase- sensitive impedance analysers" began with the collaboration of Professor Emeritus Jan Nyboer (world renowned reference on bioimpedance at Wayne State University, Detroit MI) and the US company RJL Systems in Detroit.
The first financed studies focused on the effects of dehydration on cognitive function in US Air Force pilots during the "Cold War".
The first BIAs (BIA = Bioelectrical Impedance Analyser) for the study of body composition are produced. Researchers from the two companies decide to combine their know-how and begin a collaboration, with the primary objective being the scientific and clinical validation of the BIA technique.