BIA 101 BIVA®
PRO
Stop making assumptions. Just measure
BIA 101 BIVA® PRO IPS edition, is the new bioimpedance analyzer, designed for evaluating nutritional, muscle and hydroelectrolytic status using BIA technique.
BIA 101 BIVA® PRO IPS edition, in addition to featuring a 5″ screen with IPS technology, is designed to offer an optimized user workflow offered through a "user-friendly" interface, always ensuring measurement reliability, and facilitating data collection in any professional setting, whether for outpatient or fieldwork practice.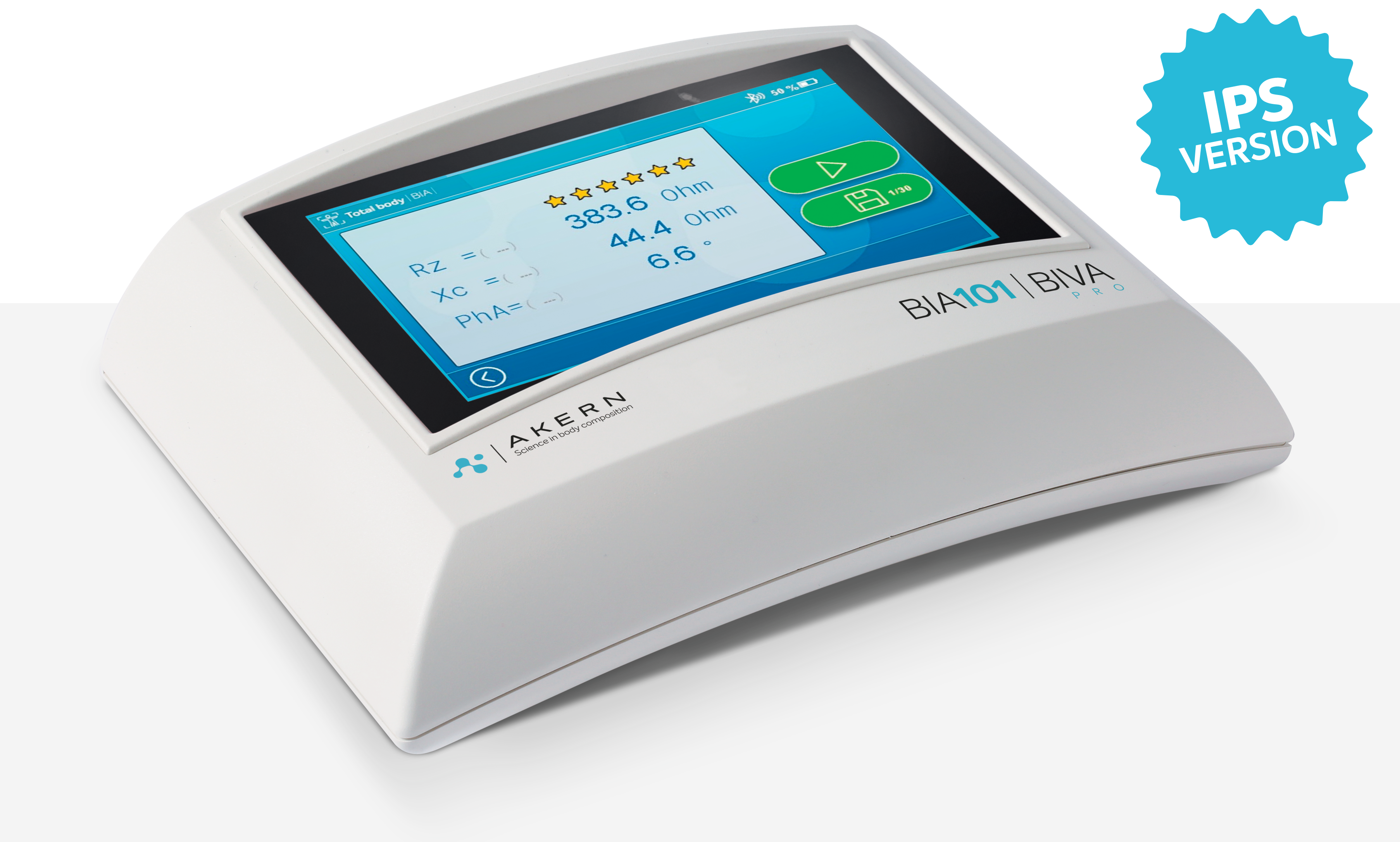 Where innovation meets reliability
Innovative

BIA 101 BIVA® PRO is equipped with a 5″ capacitive display with the new IPS, In-Plane Switching, technology which guarantees maximum graphic rendering and viewing from all angles. The touch screen is optimized in its responsiveness and the 'graphical user interface, consisting exclusively of icons, increase ease of use and allow immediate enjoyment of operational functions.

Reliable

The new SIGNAL QUALITY INDEX (SQI) function allows the user to dynamically measure the quality of the electrical signal during measurement with BIA, based on five parameters related to the signal itself, namely: stability, variability, oscillation, drift, and motion. SQI is visualized on the screen by means of 6 stars, and the user, together with the patient's objective examination, evaluates whether the signal quality is satisfactory in order to confirm, or not, the measurement.

PERFORMANCE

The battery features increased capacity, to provide up to 5 hours of continuous use, and ensure the device's increased versatility.

Scalable

BIA 101 BIVA® PRO combines two measurement configurations: TOTAL BIA for full body analysis using standard tetrapolar technique & REGIONAL BIA assessment of single anatomical regions.

Versatile

BIA 101 BIVA® PRO offers 2 different working modalities: either for outpatient or fieldwork practice, to allow all operating situations, with the confidence of a high-capacity database capable of recording up to 150 analyses, and a battery charge of up to 200 measurements.

Safe

BIA 101 BIVA® PRO is a Class IIa CE Medical Device, tested for safe measurements on children, pregnant women and patients carrying implantable medical devices or prostheses.
An unmatchable partner across many fields of application
HOSPITAL NUTRITION

Evaluation of variations in body composition during weight loss and special dietary regimes.

SPORT & FITNESS

Evaluation of body composition and follow-up of fitness programmes.

Prevention

Assessment of muscle decline and hydro-electrolyte alterations in the elderly and frail patient.

Paediatrics

Evaluation and follow-up of height-for-age, weight-for-age development in children.

Pregancy

Evolution and control of nutritional and hydration status during pregnancy.
Technical specifications
Device classification

Class IIa Medical Device - 93/42/EEC

Data on the display

BIA Total Analysis:
RESISTANCE (Rz) REACTANCE (Xc), Phase Angle (PhA), Total bodyBIA Regional Analysis
RESISTANCE (Rz), REACTANCE (Xc), Phase Angle of 10 separate anatomical regions

Measurement method

Total Body BIA Analysis, Regional BIA Analysis

Display

5-inch capacitive touch-screen

Battery charge duration

5 hours in continuous use (up to 200 measurements, depending on conditions of use), real-time display of battery charge and charging status

Lightweitght ergonomic design

600 grams, dimensions cm 20.5 x 15 x 4

Measuring current

250 μA

Frequency

Sinusoidal signal frequency 50 kHz ±1%

Resolution and accuracy

RESISTANCE (Rz): Resolution 0.1 Ohm - Accuracy 1%
REACTANCE (Xc): Resolution 0.1 Ohm - Accuracy 1%

Data trasmission on the PC

Bluetooth 4.0 communication protocol - USB

Safety alarms

Infographics and error codes activated automatically when necessary

Auto-test

The device self-tests its calibration against internal standard impedances and checks battery charge and other system functions at each start-up

Bioelectric data quality index

During BIA measurement, the Signal Quality Index (SQI) function allows the quality of the recorded bioelectric signal to be ranked dynamically and continuously

Age range

3-99 years

Database

Up to 150 analysis records

Software

BODYGRAM® DASHBOARD for Total BIA analyses
BODYGRAM® DASHBOARD + Regional App for Regional BIA analyses
BODYGRAM® HBO software interface for Hospitals and Universities