NUTRILAB™
"Point Of Care" for nutritional and hydration monitoring
NUTRILAB™ is a unique, portable multifunction touch-screen bioimpedance system that allows to monitor patients in a non-invasive, operator-independent method in all clinical conditions from ambulatory, to bedside up to homecare.
Developed for immediate classification of patients' fluids and nutritional status, by detecting bioelectrical parameter alterations (BIVA), NUTRILAB™ enables the assessment of fluid distribution and muscle mass without the "weight" factor as co-predictor.
Test results can be saved in the device memory and subsequently downloaded for further evaluations on the dedicated medical degree software analysis Bodygram® HBO.
NUTRILAB™ has been validated for use in nephrology, cardiology, intensive care, clinical nutrition, oncology, pediatrics and geriatrics, and is the most reliable sensor of:
Early identification of phase angle abnormalities as clinical prognostic indicators;
Therapy optimization for patients at high risk of events in the short and medium term;
Simplifies follow-up protocols after hospital discharge.
The NUTRILAB™ system includes validated prognostic indices:
Malnutrition: Fat-Free Mass Index (FFMI). Fat Mass Index (FMI), Muscle Tissue Quality Index (MQI);
Sarcopenia: Skeletal Muscle Index (SMI);
Appendicular Skeletal Muscle Mass (ASMMI): total Muscle Mass (MMI);
Survival and prognosis: Phase Angle percentiles and Standardized Phase Angle (SPA);
Hospitalization: risk of readmission and length of stay for fluid congestion (HYDRAGRAM®).
It also includes the main nutritional screening questionnaires (MNA®, Must®, NRS 2022).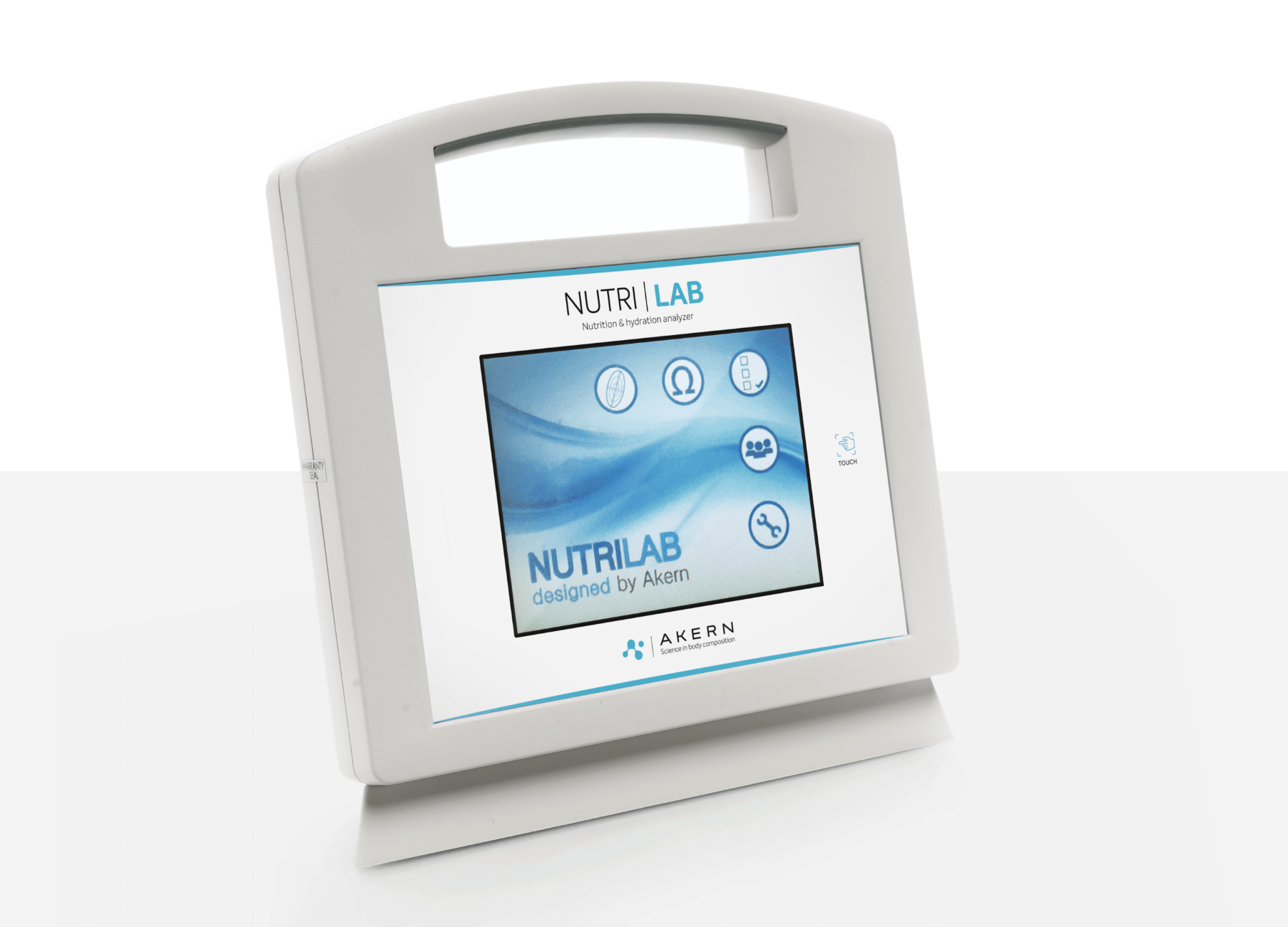 Technical specifications
Device classification

Class IIa Medical Device - 93/42/EEC

Measurement method

Total body BIA

Data on screen

· BIAVECTOR™; · HYDRAGRAM® and NUTRIGRAM® scales;
· Nutritional Scores and Indexes;
· Nutritional screening questionnaires (MNA®, Must®, NRS®);
· Body composition estimates

Battery charge duration

4 hours of continuous use, real-time display of battery charge and recharge status

Dimensions

Length x width x height 22.8 x 20.2 x 8 cm
Weight 1.0 kg

Measuring current

400 μA

Frequency

Sinusoidal signal frequency 50 kHz ±1%

Resolution and accuracy

RESISTANCE (Rz): Resolution 0.1 Ohm - Accuracy 1% REACTANCE (Xc): Resolution 0.1 Ohm - Accuracy 1%

Data transmission to the PC

USB

Age restrictions

From 2 years old for the software - From 16 years old for the device