BIA 101 BIVA
PRO™
Stop making assumptions. Just measure
BIA 101 BIVA PRO™ is the new bioimpedance analyser for evaluating nutritional, muscular and hydro-electrolytic status with BIA/BIVA technology.
BIA 101 BIVA PRO™ user interface is optimised to increase test reliability and to facilitate data collection in any professional setting.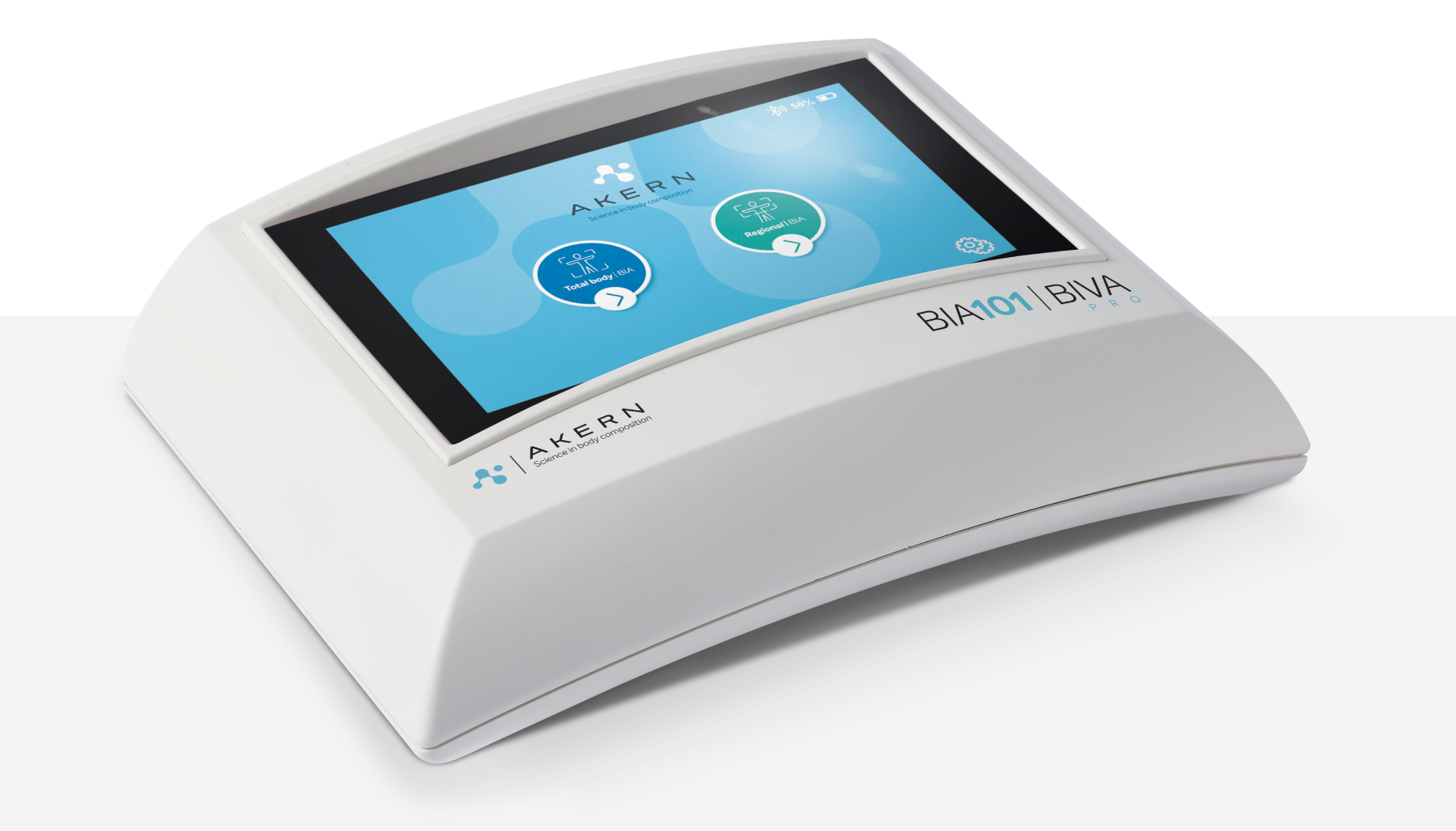 Even more innovative and reliable
Innovative

BIA 101 BIVA PRO™ features a 5" capacitive touch-screen display and a graphic interface comprised exclusively of icons for enhanced ease of use and immediate access to operating functions.

Reliable

The new SIGNAL QUALITY MANAGER function identifies "spurious" fluctuations and provides an index of Rz and Xc data quality during measurement.

Scalable

BIA 101 BIVA PRO™ combines two measurement configurations: TOTAL BIA for full body analysis using standard tetrapolar technique & REGIONAL BIA for analysis of single anatomical regions.

Versatile

BIA 101 BIVA PRO™ STUDIO and FIELD operating modes for in clinical/outpatient and outdoor settings are available. Its database is able to store up to 150 analyses.

Safe

BIA 101 BIVA PRO™ is a Class IIa CE Medical Device for safely carrying out measurements on children, pregnant women and patients fitted with implantable medical devices or prostheses.
An invaluable ally in numerous applications
Clinical nutrition

Evaluation of variations in body composition during weight loss and special dietary regimes.

Sport

Evaluation of body composition and follow-up of fitness programmes.

Prevention

Evaluation of muscular decline and body hydration changes in the elderly.

Paediatrics

Evaluation and follow-up of height-for-age, weight-for-age development in children.

Pregancy

Evolution and control of nutritional and hydration status during pregnancy.
Technical specifications
Device classification

Class IIa Medical Device - 93/42/EEC

Display data

BIA Total Analysis:
RESISTANCE (Rz) REACTANCE (Xc), Phase Angle (PhA), Total bodyBIA Regional Analysis
RESISTANCE (Rz), REACTANCE (Xc), Phase Angle of 10 separate anatomical regions

Measurement method

Total Body BIA Analysis, Regional BIA Analysis

Display

5-inch capacitive touch-screen

Battery charge duration

4 hours of continuous use, real-time display of battery charge and recharge status

Lightweitght ergonomic design

600 grams, dimensions cm 20.5 x 15 x 4

Measuring current

250 μA

Frequency

Sinusoidal signal frequency 50 kHz ±1%

Resolution and accuracy

RESISTANCE (Rz): Resolution 0.1 Ohm - Accuracy 1% REACTANCE (Xc): Resolution 0.1 Ohm - Accuracy 1%

Data trasmission on the PC

Bluetooth 4.0 communication protocol - USB

Safety alarms

Infographics and error codes activated automatically when necessary

Auto-test

The device self-tests its calibration against internal standard impedances and checks battery charge and other system functions at each start-up

Bioelectric data quality

During measurement, the Signal Quality Manager (SQM) function classifies data in accordance with physiological acceptability ranges

Age range

3-99 years

Database

Up to 150 analysis records

Software

BODYGRAM DASHBOARD™ for Total BIA analyses
Regional APP™ for Regional BIA analyses
BODYGRAM HBO software interface for Hospitals and Universities